Yesterday and today I have spent some time in op-shops and at garage sales, and finally a trip to Bunnings.
Yesterday I went to Vinnies, and got: three picture frames for a dollar each, an ice cube tray that makes star-shaped ice cubes for 50 cents, two candlesticks (big metal ones) for $2 each, and a roasting pan with a lid that was just what I wanted for making no-knead bread, for $8. The nice lady there gave me a green bag to put them in.
Today I went to two garage sales, both in Brunswick, and struck out completely. The first place just didn't have much. The second place had a few things I would have bought, but they were too expensive. Specifically, they had a hatbox and a small bag of yarn, not enough of any one type to make anything big, but they were some interesting colours and textures, so I asked how much (there were no price tags or signs.) The guy said $10 for both. I said what. He said $7 for the hatbox and $3 for the yarn. It was 3:30 and the sale was due to end at 4:30 and they still had a lot of stuff out there, and they were just starting to pull it in because it was raining. I left him, the hatbox, and the yarn, to their fate. On reflection, I'm glad: the hatbox was great, but do I really need more unassigned yarn?
Then I went to Savers Brunswick. There I got another ice cube tray (this one hearts and blossoms) for 50c, a Strawberry Shortcake plate for 70c, a Batman bowl for 70c, a heart-shaped baking tin for a dollar, and a very nice bound notebook for $2.
Then to Bunnings (if you're American, think Home Depot.) I bought a pack of table leg caps (which don't fit, dammit - I'll have to get more) for $2, and a can of black spraypaint for $3 because I couldn't find a pot of non-spray paint for a reasonable price.
I just did a search, and apparently
this
is where you go if Bunnings' paint prices make you feel faint. Does anyone know anything about them?
My current DIY project: a frame cluster. Yes, I know. /o\ I have a deck of fantasy art cards featuring art by Thomas Canty, and I had the idea of putting groups of cards in frames (they're playing card sized) and then putting them up on the wall in a big group. Well, as many as I like - there are 90 cards, so I can't do them all.
Here's what I have so far: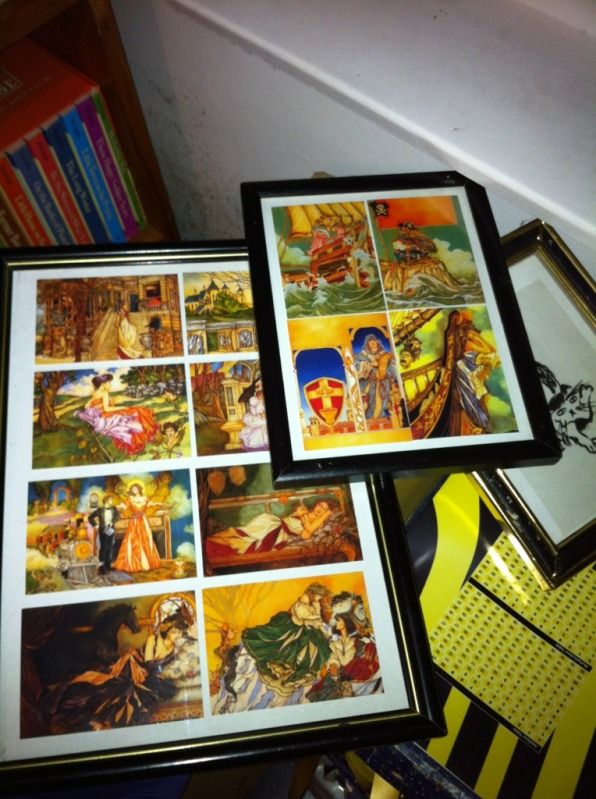 (Originally posted at Dreamwidth Link |
comments | Leave a comment)